Mary O'BRIEN, granddaughter of Bridget RYAN, Immigrates to Chicago in 1927
Three generations of women are living alone in Old Pallas, Pallasgrean, County Limerick, Ireland at the time of the 1901 census, they are listed as follows:

Hanora RYAN age 80, b 1821, Head, Housekeeper widow
Bridget COLLINS age 45, b 1856, Dau, Housekeeper daughter
Catherine COLLINS age 18, b 1883, Niece, Housekeeper daughter

Shortly after this census was taken, Mary O'BRIEN is born in 1903, making the fourth generation. Mary was my husband's maternal grandmother. She grew up without a father but there are several clues that point to his name being "Patrick O'BRIEN". One being family rumor and the other being Mary's baptismal certificate.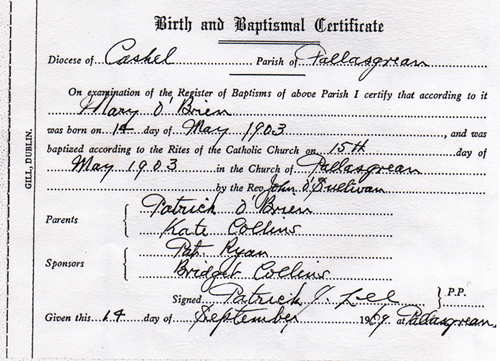 There was also a Patrick O'BRIEN born to Catherine COLLINS in about 1907, and he is assumed to be his father's namesake. We don't think that Catherine ever married Patrick, but she did eventually go on to marry Martin MCINERNEY and had several more children.
One of the MCINERNEY children, Chrissy, said that Patrick OBRIEN Sr went on to marry another woman and had a daughter who looked exactly like Mary. She said he moved to Limerick.
Mary O'BRIEN immigrated to Chicago in 1927. She went to live with her great aunt, Bessie RYAN. This is what we know about the Ryans:
The Chicken Ryans
In 2009 I was contacted by
Kim WETTROTH
who descends from
Bessie RYAN.
We did a lot of research to prove this connection and to make other RYAN family connections. We originally realized that both of our families came from Old Pallas, Pallasgrean, County Limerick, Ireland, shown here on a map:
View Larger Map
We found that Hanora COFFEY married William RYAN 7 May 1861 in Old Pallas, Pallasgrean, Limerick, Ireland according to their marriage certificate. Together they had 4 children:
John RYAN b 1854, Bridget RYAN b 1857, William RYAN b 1861, and Bessie RYAN b 1869. Clicking on their birth years will bring up their baptismal certificates.
The only question is about Bridget Ryan, and her baptismal certificate. It is shown below:


The birth year and address seem to be correct, as well as the father, William RYAN. But her mother is given as "Mary COFFEY", not Hanora COFFEY as it is for her siblings. Is this a mistake made by the priest or does Bridget truly have a different mother? If the name Mary is correct then she is most likely a sister to Hanora because my husband's maternal DNA, and Kim WETTROTH's husband's maternal DNA match, and they descend from Bridget and Bessie's lines respectively. The name Mary COFFEY also becomes important later on, as Bessie RYAN marries a man whose mother is also Mary COFFEY.
Bridget married Michael COLLINS in 1882 according to their marriage certificate, and they had daughter Catherine the same year. Catherine's baptismal certificate can be found here. Catherine is my husband's great grandmother.
Michael COLLINS died in 1884 of "phthisis" aka tuberculosis according to his death certificate. William Sr died in 1886 of "bronchitis asthenia" which means weakness due to bronchitis, according to his death certificate.
This left the family without an adult male and presumably without a source of income. It was around this time (late 1880s) that 3 of the RYAN children immigrated to Chicago, John, William and Bessie. Bridget was left behind to care for her young daughter Catherine, and to care for her aging mother, Honora. Honora died in 1911 at the age of 86, according to her death certificate, and by that time Catherine had married Martin MCINERNEY and had a total of 3 children, two by Patrick O'BRIEN and one by Martin MCINERNEY.
William and John were bricklayers by trade and by all accounts William did quite well. He eventually moved to Colorado and was involved in the bricklayer's union. He died in a tragic train accident on the way from Colorado to New York to attend a union meeting in 1924 at age 62.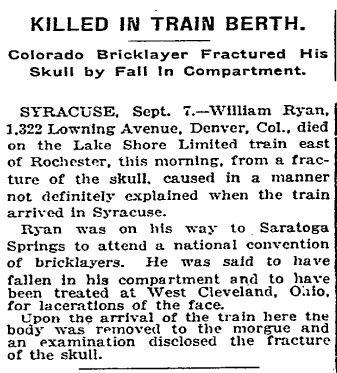 John and Bessie never left Chicago. There were only 3 records found for John Ryan. A possible entry in the 1916 Chicago Directory, his death certificate, and his obituary. He died at age 35 on 14 June 1892 of an abdominal aneurysm. He was not married. The following was his obituary with "Old Pallas" incorrectly transcribed as "Old Roller".

A week after Bessie loses her brother, John Ryan, she marries another John Ryan. The date was June 22, 1892, and Bessie is 22 years old. Not much is known about this John Ryan. He died in 1916 at age 49 and his occupation is listed as laborer. However, in the 1910 census, John is not listed and Bessie already calls herself a widow - 6 years before his actual death. Another oddity is that on his death certificate which is filled out by an Elizabeth Ryan (presumably Bessie, his wife), she gives his parents as John RYAN and Mary COFFEY. Bessie's parents were William RYAN and Hanora COFFEY. Is there a connection there? Family rumor has it that John RYAN was from Lough Gur, Ireland, and that he may have originally been a priest. Bessie and John Ryan lived at 926 Hope St in Chicago. They had at least 6 children together, 4 of whom grew up into adulthood, John, William, Robert and Noreen. She is living with these 4 children in 1920 as well as John's wife Anna and daughter Grace. On Nov 27, 1927, Mary O'BRIEN immigrated from Old Pallas, Pallasgrean, County Limerick, Ireland to Chicago to live with her great aunt Bessie. By 1930 she was living in East Suburban Hospital in Oak Park, IL, where she met her future husband William Fisher.